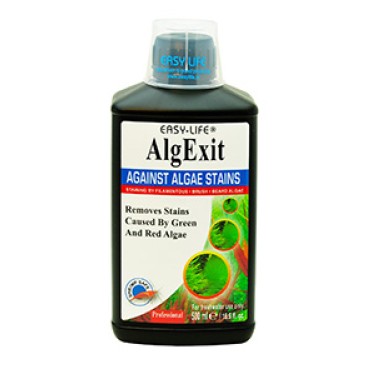 AlgExit
Against algae stains (red & green algae)
Combats algae such as beard, brush and thread algae

Easy and economical to use
AlgExit is available in various packaging quantities: 8.4 fl. oz. (250 ml) - 16.9 fl. oz. (500 ml) - 33.8 fl. oz.(1000 ml)
Against algae stains (red & green algae)
Algae stains are produced when an aquarium is not well balanced. Causes of an unbalanced aquarium are the excessive feeding of fish, too many fish in an aquarium, excessive lighting or excessive fertilization. You also take them home when you purchase fish or plants!
AlgExit easily removes stains caused by Green and Red Algae in freshwater aquariums. Removes and cleans algae stains from plants, bottom material and other aquarium surfaces. Unwanted filamentous, brush and beard algae stains are removed. Harmless to fish, crustaceans and plants.
Course 4 weeks
Add 1 fl. oz. per 80 gal. (10 ml per 100 litres) once a week for four consecutive weeks.
Remove the adsorbent materials (such as active carbon) during treatment but keep the filters running. Shake before use.
Product not intended for use in controlling the organisms that cause the staining. Store in a dark place. Keep out of reach of children and pets. For aquarium use only. Not for human consumption.
Let the dosage app help you!
Our new app is online! The dosing app, it helps you determine how much product to use based on your aquarium. This ensures that there is always the right amount in your aquarium. Which ensures that your fish and other aquatic animals have a healthy, clean and, above all, pleasant environment to live in. Are you also curious? Scan the QR code now to open the app!
Use the web app now!