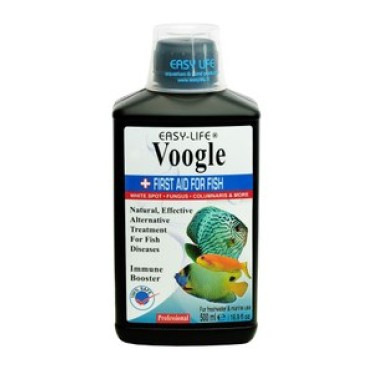 Voogle
Voogle is a very efficient and safe innovative product that increases the resistance and supports the natural healing process. Voogle avoids in this way, the use of antibiotics. Resistance problems that are related to many antibiotics, Voogle do not know.
Voogle has no harmful effect on fish, shrimps, lobsters, molluscs, plants or the biofilter.

Voogle has no effect on the important water parameters and does not cause resistance.

Voogle mostly consists of plant extracts and supporting vitamins and minerals.

Voogle breaks down naturally, so that it is not necessary to change the water after using the product.
Voogle is available in various packaging quantities: 8.4 fl. oz. (250 ml) - 16.9 fl. oz. (500 ml) - 33.8 fl. oz.(1000 ml) - 169 fl. oz. (5000ml)
Voogle Perfect fishcare, avoid antibiotics
Every fish has a natural immune system against pathogens. Transportation, dirty water or a high number of pathogens in the water cause a lot of stress. Stress costs a great deal of energy and has a negative effect on the immune system. The mucous skin, gills and fins, in particular, become more sensitive to diseases, such as white spot, fungi and other types of infection. Weekly use of Voogle ensures that fish remain optimally protected in a natural way and the dangers resulting from pathogens are greatly reduced.
Maintenance, continuous protection
1. fl. oz. per 80 gal.
Transport
1 fl. oz. per 30 gal.
Quarantine - import
Five-day course treatment, 1. fl. oz. per 30 gal.
New fish in aquarium
1. fl. oz. per 15 gal.
In case of problems
Five-day course treatment, 1 fl. oz. per 30 gal.
*** Voogle is extremely safe to use and multiple doses can be added in one go if the situation requires. The course of treatment can also be extended without any problems.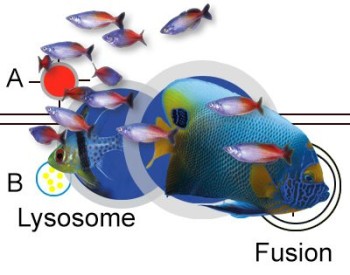 More information and background about Easy-Life Voogle
Voogle was developed by Easy Life as far back as 2010 and has since been perfected further. Voogle is based on targeted boosting of the immune system, thereby combating the pathogens naturally. This approach is also of great interest in the development of medicines for humankind as it has been scientifically proven that medication that boosts the immune system has considerable capacity to prompt the immune system to prevent and fight infections without the intervention of antibiotics.
Read the whole story, workings and more about Voogle: more click here
Let the dosage app help you!
Our new app is online! The dosing app, it helps you determine how much product to use based on your aquarium. This ensures that there is always the right amount in your aquarium. Which ensures that your fish and other aquatic animals have a healthy, clean and, above all, pleasant environment to live in. Are you also curious? Scan the QR code now to open the app!
Use the web app now!